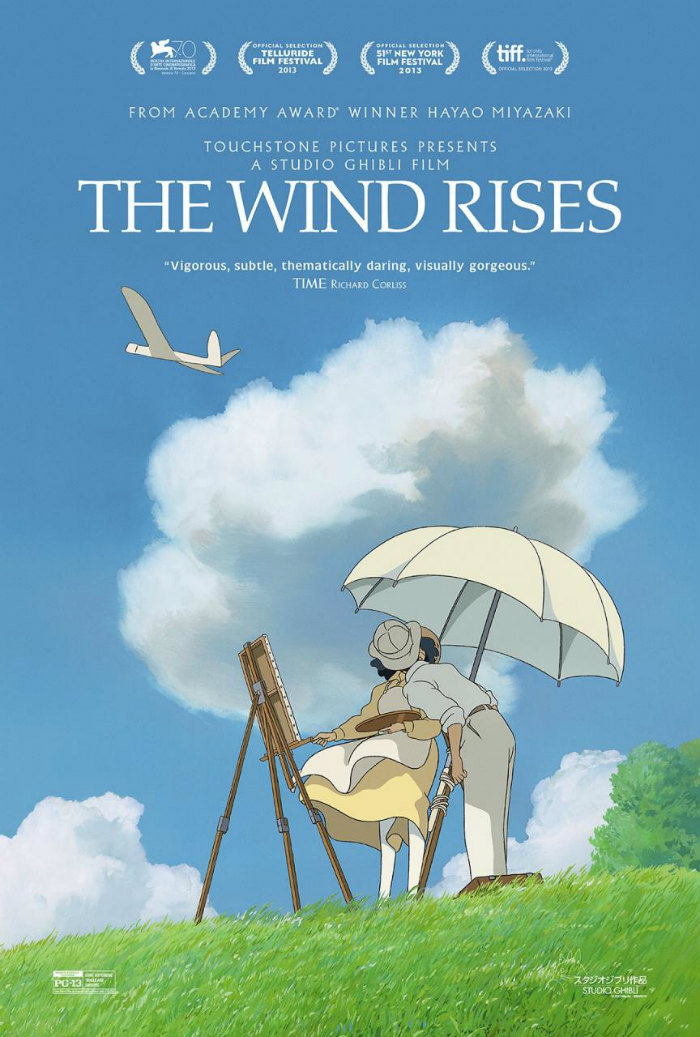 Title: The Wind Rises
Director: Hayao Miyazaki
Written by: Hayao Miyazaki
Starring: Joseph Gordon-Levitt, Emily Blunt, John Krasinski, Martin Short, Werner Herzog
In one of the many dream sequences that populate Hayao Miyazaki's latest masterpiece, The Wind Rises, Italian aeronautical engineer Caproni says to the movie's protagonist Jiro, "artists are only creative for ten years." It's here, and during other moments, where Miyazaki, who announced his retirement (again) before the premiere of the movie, seems to be channeling his own creative career. Anyone familiar with Miayazaki's resume knows that the ten-year rule hardly applies to him; for over thirty years, he's been making some of the world's most beautiful, expressive, emotionally powerful animated feature films, many of them masterworks. Yet The Wind Rises looks to be the last, at least according to Miyazaki, who hopes to pass along his work to a younger generation of animators. Miyazaki has entered retirement before – at one point he claimed Princess Mononoke (1999) would be his final film – yet there seems to be a sense of finality to his most recent announcement. Thus, the watching of The Wind Rises is a bittersweet affair, bitter because it may be his last, sweet because it stands as one of the finest, most elevated movies of his long, brilliant career.
The Wind Rises is a fictionalized account of aeronautic engineer Jiro Horikoshi, who famously designed the Zero fighter, used by the Japanese navy during World War II. Although the movie faithfully recreates Jiro's professional career, it invents his private life. As a result, The Wind Rises is part biopic, part historical fiction.
Fans comfortable with Miyazaki's earlier works may be surprised by the contents, artistic and thematic, of The Wind Rises. There is very little of the fantastical that so often accompanies his stories. Only in dream sequences does the movie adopt the surrealistic visuals and other-worldly creations that define Miyazaki's imaginative landscape; much more often the movie is dominated, atypically, by realism. The Wind Rises, in other words, is more David Lean than Walt Disney. It's also, by far, his most difficult, abstruse feature. The movie demands some knowledge of world history, and the ability to follow a story that moves, often seamlessly, between reality and fantasy. In this way, The Wind Rises recalls 8 ½, Federico Fellini's challenging, sometimes impenetrable semi-autobiographical masterpiece.
This uncharacteristic realism and density, however jarring, points to a significant elevation and evolution of Miyazaki's filmmaking. It may not be his best movie – that honor still goes to Spirited Away – but it's his most dramatic. In terms of narrative, storytelling, composition, cinematography, and editing, The Wind Rises is Miyazaki's finest work. It's also his most transcendent. It breaks down the traditional barriers of animation to produce something amazingly lifelike, not in terms of its aesthetic but in terms of its structure.
If The Wind Rises is indeed Miyazaki's final film, it's a worthy swan song for the greatest living animation director. It's his most complex, elevated, theatrical feature yet.