Title: Jurassic World
Director: Colin Trevorrow
Written by: Rick Jaffa, Amanda Silver, Derek Connolly, Colin Trevorrow
Starring: Chris Pratt, Bryce Dallas-Howard, Vincent D'Onofrio, Ty Simpkins, Nick Robinson
There's a scene in the first half of Jurassic World in which the Operations Manager of Jurassic World, a dinosaur theme park and resort, tells her animal trainer that the park's scientists have created a new dino hybrid to attract customers. "Corporate felt genetic modification would up the 'wow' factor," she says. The trainer shoots back, "They're dinosaurs. Wow enough." If only that were true. In 2015, now 22 years after the original Jurassic Park hit theaters, dinosaurs -- or flying robots or alien invaders, for that matter -- appear insufficient to appease the movie-going public. We want more: more carnage, more spectacle, "more teeth," as they say in Jurassic World. Colin Trevorrow, who directed this fourth installment of the Jurassic franchise, seems to understand this. His movie is knowing, self-referential, and critical of the bloated summer blockbuster. Yet, at the same time Trevorrow lampoons the runaway budgets, thin characterizations, and expensive digital effects of the modern movie blockbuster, he embraces them. The movie lurches from set piece to set piece, stopping to admire its product placements, but never bothering to tell an interesting story or elevate its characters from glorified extras.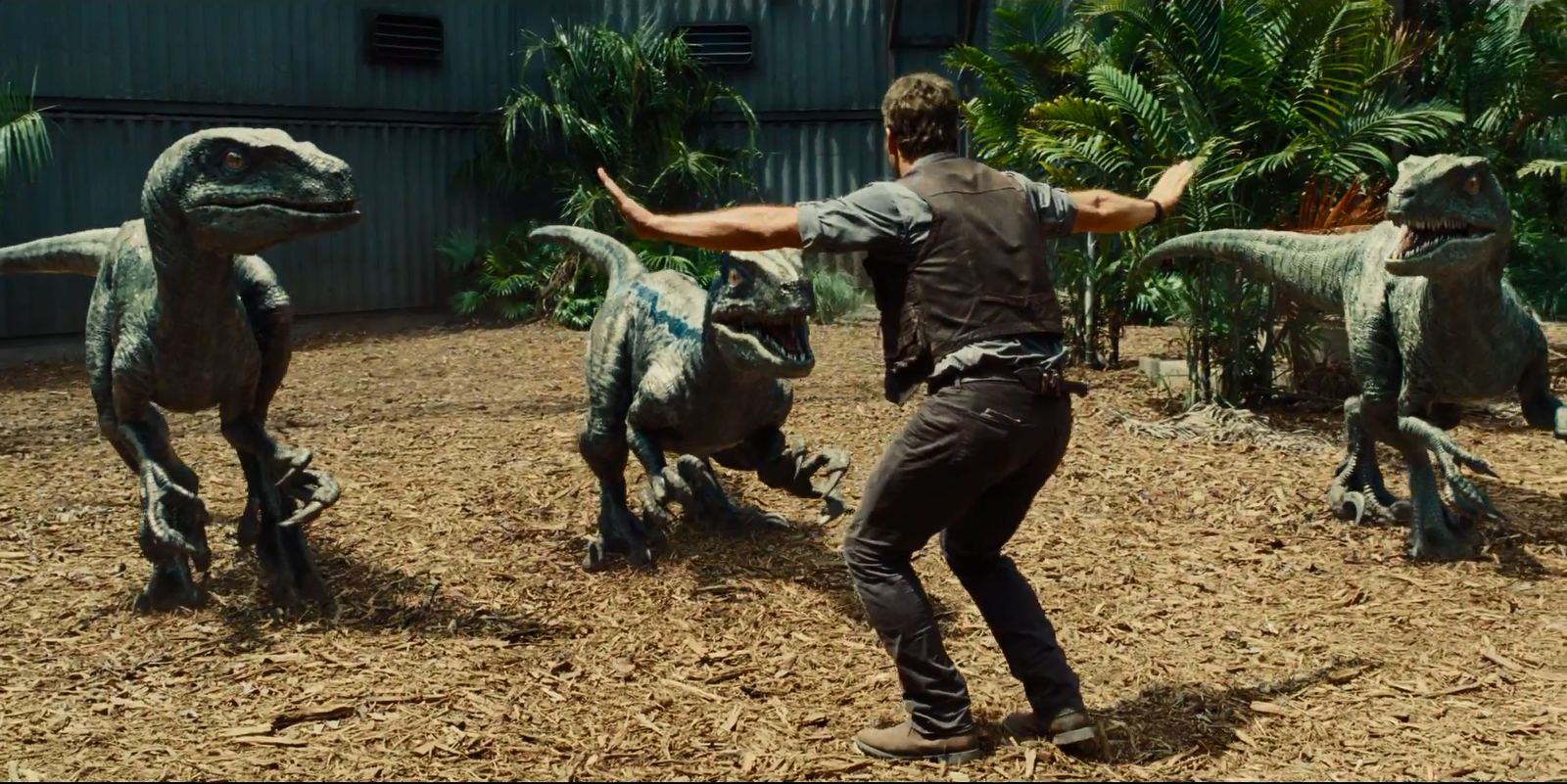 Set two decades after the first dinosaur theme park ended in disaster, Jurassic World returns to Isla Nublar, an island off the coast of Costa Rica where, finally, the dinosaur genetic experiment is a success. The park, now a luxury resort, is fully functional. Revenue is up. Customer satisfaction is in the 90s. The only problem: dinosaurs, once thrilling, are now yesterday's news. The public wants something new, something more dangerous. Enter Simon Masrani (Irrfan Khan), the park's new owner, and Claire Dearing (Bryce Dallas-Howard), the park's Operations Manager, who work with geneticists to create a brand new attraction: Indominus Rex. Indominus, who belongs to the same on-the-nose family as unobtanium and Darth Sidious, of course escapes captivity and runs amok.
Trevorrow, who has only one other feature to his name, the 2012 indie Safety Not Guaranteed, actually directs the movie serviceably. Guided by his mentor and executive producer Steven Spielberg, he hits all the right notes, especially during the movie's action scenes. Burdened with a huge budget and tasked with making a straightforward blockbuster, Trevorrow does his best to inject the movie with a sense of humor and levity. But it's not enough. The characters are boring and expendable. The story is stupid. And the sense of awe and grandeur of Spielberg's original creation is long gone.
And, really, that's what Jurassic World needs most desperately: the humanizing touch of Spielberg. Even though the original Jurassic Park was something of a diversion for Spielberg -- he edited it at night and filmed Schindler's List during the day -- he managed to bring its characters (and its dinosaurs) to life. The same cannot be said for Jurassic World. The relationship between Claire and trainer Owen Grady (Chris Pratt, in a bland performance) is totally without chemistry. The animals, once objects of fear and respect, are mere digital props to be introduced and quickly discarded.
Jurassic World, in a way, is critic-proof. Moviegoers will flock to the theater to see it, because the Jurassic brand is strong and because, well, dinosaurs. But audiences deserve better than this. Jurassic World is a flat, dumb mess of a movie, with one-dimensional characters and silly story lines.